Whiskey Essentials (& More)
In this series on Whiskey, we explore each of the types of whiskey:
Scotch Whisky, made in Scotland.
Bourbon, made in the United States.
Irish Whiskey
Canadian Whiskey
Japanese Whisky
In today's post, we will focus on Scotch Whiskey.
Scotch Whisky
Scotch whisky, often referred to simply as Scotch, is made exclusively in Scotland and, you'll notice, is spelled without the "e".
Whisky can be made from a variety of grains but is classified as either Malt or Grain.
Malt whisky is made from 100% malted barley and must be made in pot stills.
Grain whisky can be made from any grain but has to include some malted barley. It is usually made in column stills.
Whiskies come in three main categories:
Single malt whisky – malt whisky from one distillery
Blended malt whisky – a mixture of malt whiskies from various distilleries
Blended whisky – a mixture of malt and grain whisky, usually from different distilleries
If you want to get geeky about it, here are whiskies ranked from rarest and most expensive to bottles you can pick up relatively inexpensively:
Single cask
Aged single malt
NAS (no age stated) single malt
Aged blended scotch
Blended Scotch
For cocktails, aged blended scotch, preferably 12-year, is ideal though you can't go wrong with an aged single malt either. I often use Laphroaig 10-year, a single malt, in cocktails because I love its distinctly peaty flavor.  You'll want to avoid the bottom tier because you'll taste the difference and the top tier because, well, it would be a waste.
---
Single Malt vs. Blended Scotch Whisky
This is a little confusing because single malt whisky is also a blend, it's just that it's a blend of malt whisky made in a single distillery. Blended Scotch Whisky is a blend of grain and malt whisky from more than one distillery.
---
Scotch Regions
There are five Scotch regions in Scotland: Campbeltown, Highland, Islay, Lowland, and Speyside and each has its distinct style.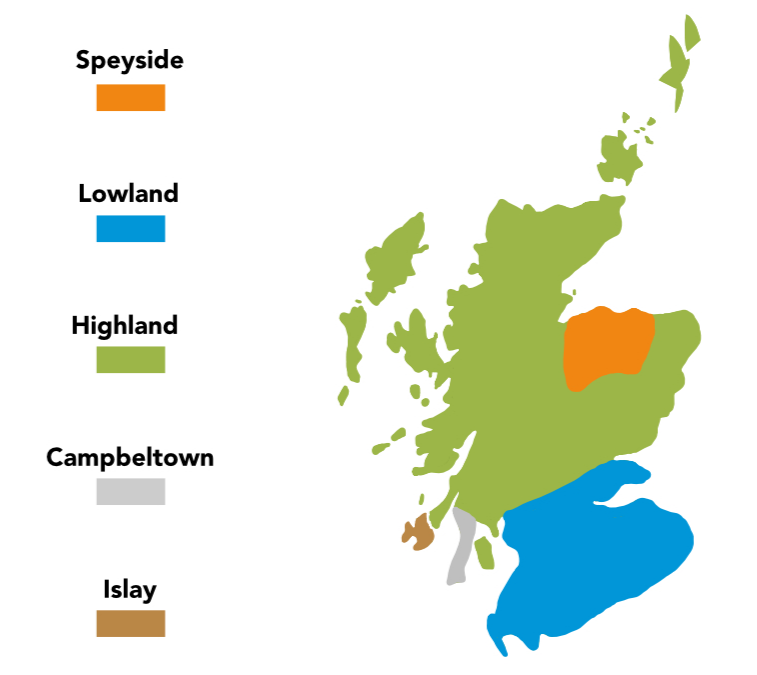 Speyside
Speyside whiskies are less peaty and more fruit-forward with scents of apple, pear, honey, vanilla, and spice. Speyside Scotch is aged in Sherry casks adding further complexity. Aberlour A'bunadh is a great expression of Speyside Scotch.
Lowland
These whiskies have a soft, elegant lightness and are perfect for pre-dinner drinks. Look for scents of toffee, cream, ginger, cinnamon, and honeysuckle. A great example of a Lowland whisky is Glenkinchie 10-year-old.
Highland
This region has a vast range of flavors and characters. From lighter whiskies to salty coastal malts, you'll find it all in the Highlands. I love Balvenie 21-year-old. A dear friend and fellow scotch drinker gave me a bottle and you can bet I'm sipping it slowly. For a more affordable option, try, Balvenie 10-year-old.
Campbeltown
Campbeltown whiskies are rich and robust. Look for salt, smoke, fruit, vanilla, and toffee on the nose.  Try Glen Scotia 14-year-old.
Islay
Islay (pronounced 'eye-luh') is an island famous for its fiery, smoky, and peaty whiskies. You might also be able to smell the salty sea air and a hint of seaweed.   Whisky production is the main economic driver of the Island; most of the population of Islay is involved in Whisky production.
---
I seem to have a special affinity for the Isle of Islay. It's not only the home of my favorite gin, Botanist, but it is also where Laphroaig, my favorite Scotch, is made.
Learn Your Flavor Preferences
Knowing my flavor preferences was a game changer for me in ordering wine. I have a friend who has a deep knowledge of wine and I used to call him from the restaurant, describe what I was going to order, and based on that and his understanding of my preferences he would recommend a wine. Cute, but not very practical. So, I took some classes at The Wine & Spirit Archive here in Portland and learned how to identify wines I like. I discovered that I like a white with plenty of acidity and minerality and a light elegant red like a Burgundian-style Pinot Noir which has more reserved fruit and stronger minerality.
The same is true for Scotch. The only way to know your preferences is to taste different whiskies to see what flavor profile you prefer. Instead of buying a whole bottle I sometimes order a whisky I'm interested in when I'm out with friends to see if I'm going to like it. Here in Portland, we have the most marvelous Multnomah Whiskey Library with over 1,500 bottles of spirits to choose from and lots of opportunities to try new labels.
---
Since the focus of this series is cocktails let's look at how we can use Scotch in cocktails.
The Bobby Burns
The Bobby Burns is named for the poet Robert Burns whose birthday is something of a national holiday in Scotland. This makes a great after-dinner drink. Here is my version of the cocktail:
Ingredients
2¼ oz, 70 ml Blended scotch whisky such as Dewars 12-year
1¼ oz, 37 ml Sweet vermouth. I use either Dolan rouge or Carpano Antica Formula.
⅓ oz,  10 ml Benedictine D.O.M
¼ oz. 7 ml Pernod (or Absinthe)
Garnish: Lemon Peel
Swirl the Pernod in the glass and discard. For me, a little anise goes a long way so I use it as a rinse but traditionally it is added to the drink itself so you can do it either way.
Add the remaining liquid ingredients to a mixing glass filled with ice and stir for 30 seconds or until cold.
Strain into a chilled Nick & Nora glass. Twist the lemon peel over the cocktail to release oils and then use it as the garnish. It's traditional to serve the Bobby Burns with shortbread cookies on the side.
The South by Southwest Cocktail
Now for a less well-known but equally delicious cocktail that I think deserves more attention: the South by Southwest cocktail, another riff on the Negroni.
Ingredients
1 oz, 30 ml peaty scotch like Laphroaig
1 oz 30 ml Campari
1 oz 30 ml sweet vermouth
GARNISH: orange twist
Mist the inside of the glass thoroughly (three or four sprays) with orange flower water. If you don't have a mister bottle you can get one here.  Alternatively, you can pour about a teaspoon of Orange Flower Water into the rocks glass and roll it around to coat the inside before discarding it.
Stir ingredients in a mixing glass with plenty of ice for about 30 seconds and strain into a chilled rocks glass with one large ice cube. Garnish with another spray of orange flower water and the orange twist.
---
Thank you so much for taking this journey of exploration with me.
Love,
Darcy
PS: I would love to hear your thoughts. Scroll to the top of this post, and click on 'view online' to leave a comment at the bottom.
Please share this post on social media by viewing online and clicking the icons at the top of the post or sharing it with a friend.